Destination Wedding Portrait
Wedding portrait at Sapphire Point in Dillon, Colorado.
Wide shot of Southern wedding ceremony.
Summer wedding ceremony under archway in Paducah, Kentucky.
Chicago Engagement Portrait Shoot
Romantic Illinois engagement photos at Chicago Lily Pond.
Romantic Black & White Couple
Groom with bride holding rose bouquet in Decatur, Illinois.
Bride and Groom Under Veil
Central Illinois couple pose for portraits under bride's wedding veil.
Wedding Ring in Glitter Sneakers
Diamond wedding ring sitting inside silver glitter covered sneakers with ribbon laces.
White Rose Bouquet
Detail photo of bridal bouquet of white flowers.
Wedding Ring Photo
Groom in grey suit and bride in white BHLDN gown and diamond wedding ring.
Curly Hair Kentucky Bride
Southern bride in textured gown holding white and pink roses in Paducah, KY.
Chicago Conservatory Engagement Session
Chicago couple's engagement portrait at Lincoln Park Conservatory in northern Illinois.
Illinois Couple Wedding Portrait
Romantic photos of couple before ceremony at Allerton Park in Monticello, Illinois.
Bride & Groom Chair Signs
Black and white detail photo of "Mr. and Mrs." book chair signs at wedding reception.
Bride Getting Ready Photo
Portrait of bride getting makeup done before wedding.
Illinois Wedding Photographer
Beautiful bride in Olha Potapenko wedding gown in Springfield, Il.
B&W Groomsmen Portrait
Black and white photo of groom and groomsmen in black suits at Illinois country club.
St. Louis Wedding Photography
Candid photo of bride and groom exiting STL wedding ceremony.
Springfield Illinois Newlyweds
Portrait of central IL couple holding hands after wedding ceremony.
Breckenridge Groomsmen Portrait
Groom and best man getting ready, drinking whiskey for destination wedding in Colorado.
Illinois Wedding Portrait
Newlywed couple's wedding photos outside Illinois State Capitol building.
Vibrant Portrait of Bride and Groom
Wedding photo of couple behind bride's veil in front of large bright, red wall.
Wedding Reception Name Cards
Black and white detail photo of simple, white name cards at Chicago, Illinois wedding reception.
Gold and Red Themed Bridal Party
Bride in white lace wedding gown and bridesmaids in mixed styles of gold sequin dresses in front of vine-covered wall.
Wedding Dress & Personalized Wooden Hanger
Gorgeous white lace strapless Maggie Sottero bridal gown hanging from hanger with groom's last name.
Grooms Wedding Ring Hands
Two grooms holding hands, showing off wedding bands and textured bowtie.
Summer Winery Wedding
Outdoor wedding at central Illinois winery ceremony location.
State Capitol Wedding Portrait
Bride and groom photos after ceremony at Illinois State Capitol building.
Chicago Illinois Engagement Portrait
Black and white photo of engaged couple in Chicago, IL.
Candid Engagement Shoot Portrait
Downtown Springfield, Illinois location photoshoot with couple in Fall clothes.
Modern Wedding Table Setting
Wedding reception table design with white candles and gold candle holders.
Groom in Blue Plaid Suit
Wedding portrait of brunette groom in navy blue plaid suit with blue tie.
Bride and Groom Ceremony Exit
Newlywed couple leaving wedding ceremony at Allerton Recreation Center in central Illinois.
Chicago Couple Engagement Shoot
Portrait of couple in downtown Chicago, IL next to foggy pond.
Springfield IL Wedding Photographer
Getting ready portrait of bride in champagne colored, lace gown at Inn at 836.
Black & White Wedding Portrait
Wedding photo of couple outside old train station in Springfield, Illinois.
Wedding Detail Photo
Detail photo of glassware from Chicago, IL wedding ceremony.
Illinois Bridal Party Portrait
Bride leading bridesmaids into home, carrying bouquets with small white flowers.
Strapless White Wedding Gown
Detail photo of strapless bridal gown with lace on custom hanger under professional photography lights.
Family at Wedding Ceremony
Candid photo of family, mother of the bride watching outdoor, summer wedding ceremony.
Bride & Groom at Illinois State Capitol
Springfield, IL couple holding hands at Capitol building before wedding ceremony.
Band at Indoor Wedding Reception
Black and white portrait of brass section of soul/r&b band from Chicago, IL.
Summer Bride with White Bouquet
A bridal portrait by Illinois Wedding Photographer Ben Romang Photo.
Colorado Wedding Photography
Detail photo of blue suede Steve Madden high heel shoes.
Denver, CO Wedding Ceremony
Wide photo of outdoor wedding ceremony at Sapphire Point in Dillon, Colorado.
Romantic Portrait by the Lake
Older newlyweds in sunset portrait by Springfield, IL lake.
St. Louis Wedding Photographer
Portrait of laughing STL couple at the Old Post Office.
Candid Portrait of Groomsmen
Groom and groomsmen walking into Illinois church for wedding ceremony.
Grooms in Outdoor Wedding Portrait
Central Illinois grooms smiling for portrait after wedding ceremony at Springfield Old State Capitol.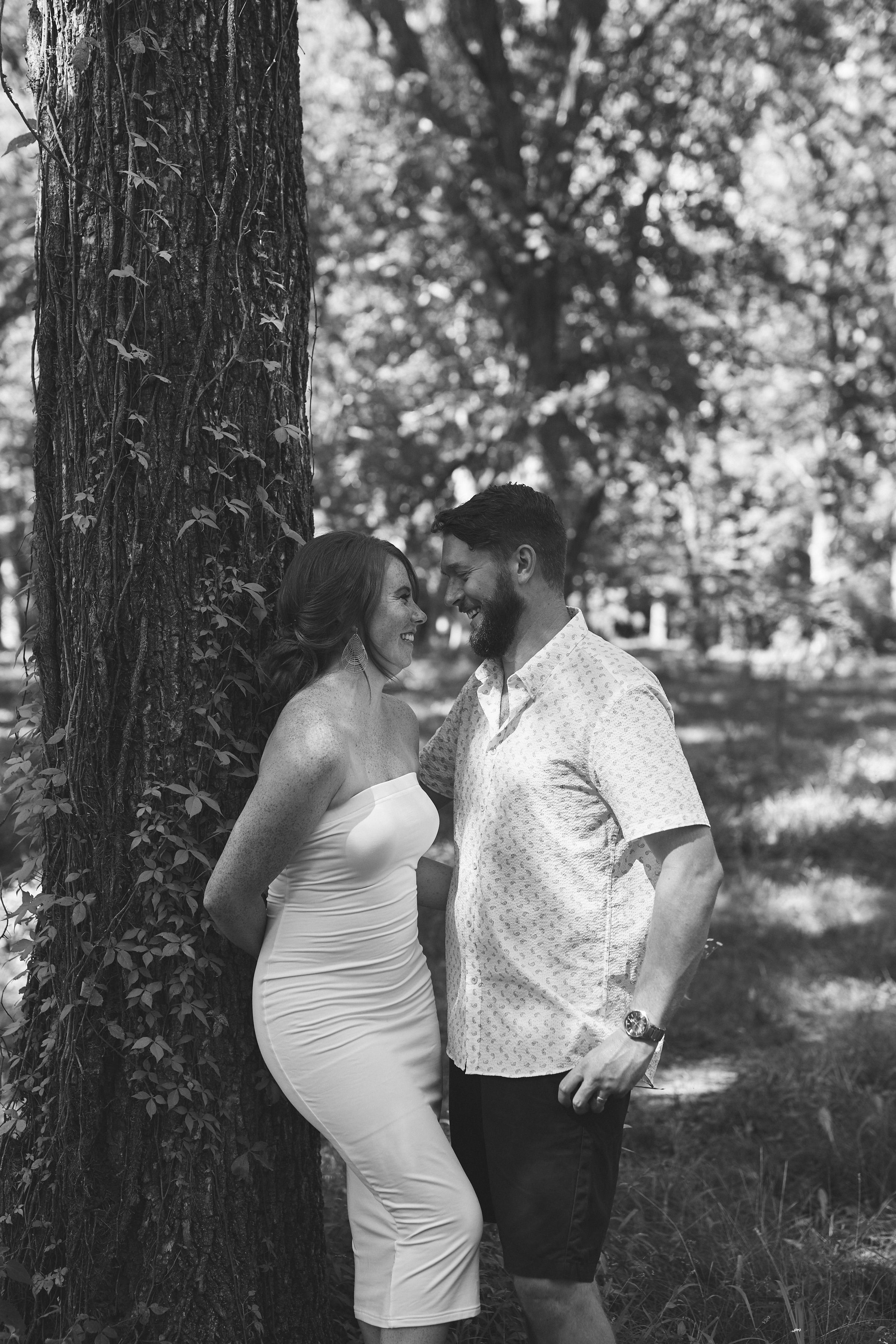 Illinois Park Engagement Shoot
Couple in summer clothes next to vine-covered trees at Lincoln Memorial Garden in Springfield, IL.
Small Illinois Wedding Ceremony
Photo of small ceremony under gazebo in Washington Park in Springfield, IL.
Classic Bride and Groom Portrait
Bride with long, white veil and groom in classic black suit in front of vine-covered wall in central Illinois.
Wedding Gown Detail Photo
Photo of white, lace wedding dress hanging in front of french doors in Denver, CO.
Chicago Wedding Photographer
Photo of champagne glasses before Illinois wedding reception.
Illinois Farm Wedding Portrait
Portrait after farm wedding ceremony of groom and bride with pink flower crown.
Classic Photo of Bride & Groom
Black and white studio portrait of older bride and groom at indoor fall wedding.
Fall Wedding Portrait Photography
Candid photo of bride and groom walking through fall leaves in Chicago, IL.
Modern Destination Wedding Photographer
Getting ready photo of bride with bridesmaids in pink maxi dresses in nature.
Wedding Ceremony Musician
Portrait of piano player at indoor wedding in Springfield, Illinois home.
Wedding Reception Cupcakes
Beautiful, simple white icing cupcakes on modern stand at Illinois wedding.
Wedding Cake Topper
Bride and groom wonderland silhouette cake topper at evening wedding reception.
Chicago IL Wedding Reception
Beautifully decorated rustic dinner table featuring small, potted succulents in Northern Illinois.
Illinois Cherry Blossom Tree
Gorgeous cherry blossom tree outside of central IL Catholic Church.
Illinois Couple in Destination Wedding
Portrait of newlywed couple in Allerton Park and Recreation Center in Monticello, IL.