Route 66 Model Style Shoot
Photo shoot with Shawnaci at Route 66 museum in Springfield, Illinois.
Portrait at St. Louis Contemporary Art Museum
Editorial style model shoot taken at the Portrait at St. Louis contemporary art museum with Daphne, wearing adidas sneakers.
Portrait of Grandmother in Nature
Woman sits for portrait photographer under tree in Springfield, IL.
Portrait of a Cowboy
Candid photo of a local businessman at a conference in Jacksonville, Illinois.
Professional Black & White Headshot
Professional head shot taken with Paul C. Buff lights in Springfield, Illinois.
High School Senior Sports Shoot
Photo from a senior shoot with twin track stars.
Springfield Illinois Commercial Photography
Environmental portrait of personal trainer at gym in Springfield, IL.
Ballerina on Illinois Rooftop
Ballet dancer leaping on top of Springfield, IL parking garage.
St. Louis Style Blogger Fashion Shoot
STL blogger posing for style portrait session at the Jewel Box in Forest Park in St. Louis, MO.
Rochester Illinois Senior Photographer
High school senior tennis player on court with racket.
Male Model Portrait
Blonde senior male photoshoot in Springfield, Illinois.
Airplane Senior Portrait Shoot
High school senior photo session at the Abraham Lincoln Airport in Springfield, Illinois.
Springfield IL Model Shoot
Senior portrait shoot of female model in downtown Springfield, Illinois.
STL Style Blogger
Fashion blogger Julia Cain poses for beauty portrait.
Brunette Ballet Dancer
Ballerina themed portrait shoot in central Illinois.
Studio Light Tattooed Model Shoot
Portrait of blonde model in black hat in front of seamless white background.
Black and White Grandfather Portrait
Very detailed b&w portrait of older man in Springfield, IL.
Urban Illinois Senior Portrait
High school senior male in alley in Springfield, Illinois.
Illinois Sports Photographer
Black and white portrait of senior golf photoshoot in Rochester, Illinois.
Twin Senior Portrait Shoot
Blonde twin models in urban Illinois photoshoot.
Commercial Business Environmental Portrait
Candid content for central Illinois gym by Springfield, IL commercial photographer.
Model Portrait on Route 66
Vibrant photo of blonde model Martha at vintage Route 66 gas station in Springfield, IL.
Style Model at STL Art Museum
Fun fashion portrait of St. Louis model Daphne outside the Contemporary Art Museum.
Studio Portrait of Illinois Child
Photo of child in front of studio background by Springfield, IL portrait photographer.
Chicago Sports Photographer
Chicago sports portrait of high school senior baseball player.
Classic Black and White Portrait
Photo of older man in cowboy boots and hat, next to classic car.
Chicago Illinois Portrait Photographer
Male high school senior photoshoot session in white t-shirt and blue jeans.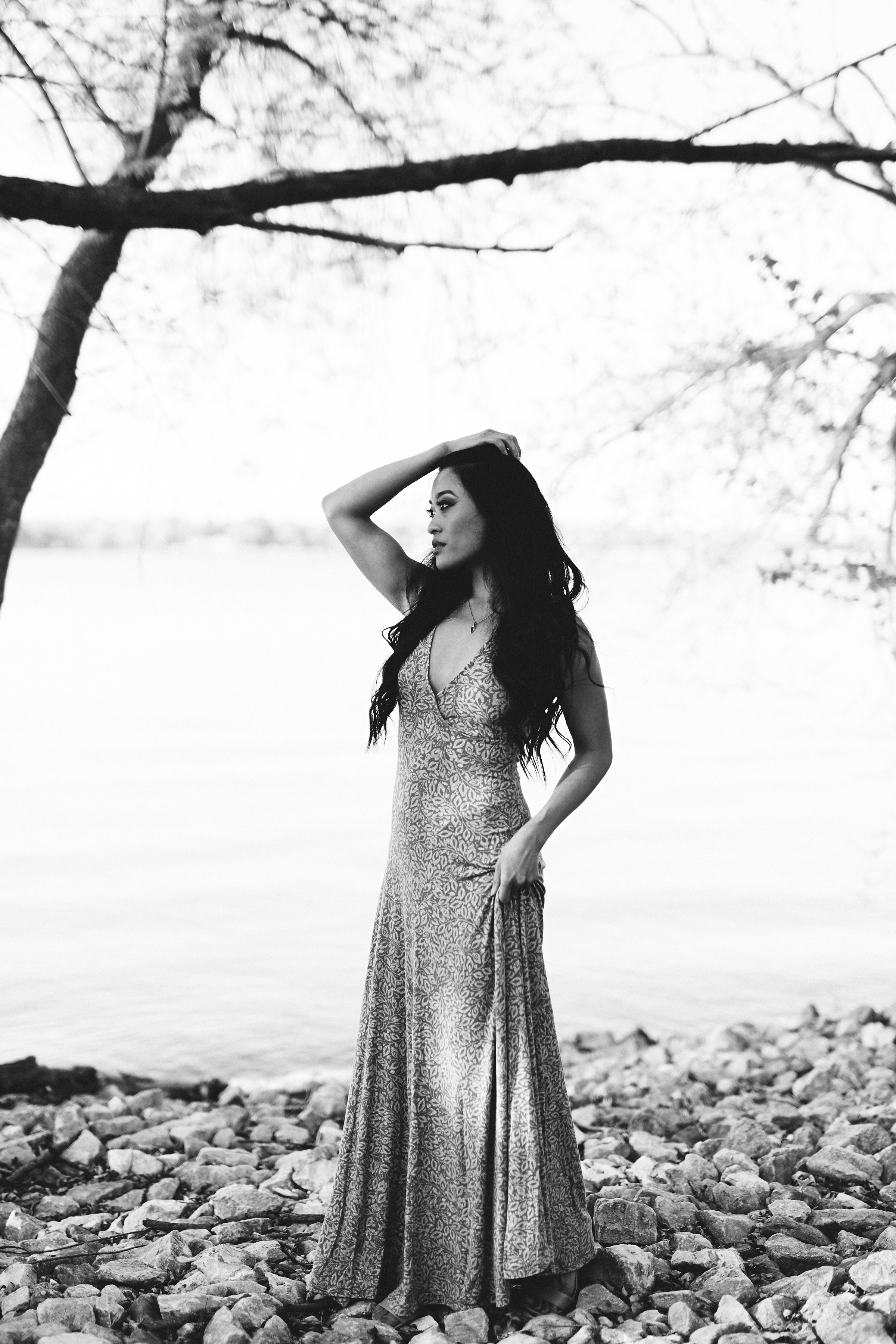 Beautiful Model Next to Springfield Lake
Model style and beauty shoot in dress she made with blue, floral fabric next to lake in central Illinois.
Local Blogger Style Shoot
Portrait fashion photoshoot at Route 66 themed restaurant and bar in Chatham, IL.
Illinois Skate Park Photo Shoot
B&W portrait of two women who roller skate at a park central Illinois.
Colorful Fall Family Portrait Photography
Mom, dad, and toddler playing with fall leaves at Lincoln Memorial Garden.
Male Guitarist Studio Portrait
Photo of musician under studio lights in black and white.
Female Nature Senior Portrait
Photo of high school senior at Washington Park.
Blonde Model Studio Shoot
Stylish model Martha in black and white portrait wearing black dress.
Springfield IL Senior Portrait
High school senior photo taken in woods outside his central Illinois home.
St. Louis Editorial Fashion Photographer
STL style blogger Julia Cain modeling accessories and leather jacket in front of red smoke bomb.
High School Baseball Action Photo
Senior sports photography for Rochester, IL baseball player.
Illinois Family Portrait Photography
Beautiful candid photo of brother and sister hugging during winter family photoshoot.
Art Museum Portrait Shoot
St. Louis model wearing Urban Outfitters clothes outside of Missouri museum.
Roller Skate Model
Local skater putting her gold helmet on under bright blue sky.
Studio Photoshoot in Illinois
Model with curly hair in camo sweatshirt in Springfield, IL photo studio.
Models at Vintage Museum Shoot
Two models at Route 66 themed museum and restaurant.
Female Senior Soccer Player
Rochester, Illinois senior portrait shoot on high school soccer field.
Illinois Portrait Photography
Photo of grandmother holding homemade knits in her central Illinois home.
Two Ballerinas on Rooftop
Portrait of high school ballet dancers in Springfield, IL.
Baseball Senior Portrait
Photo of Rochester, IL high school senior varsity catcher.
Photo of Happy Married Couple
Portrait of loving husband and wife in Springfield, Illinois.
Studio Lighting Portrait Photographer
Springfield, IL photo of blonde senior high school student.
STL Fashion Photography
Portrait of St. Louis style blogger in Lafayette Square.
Black and White Studio Portrait
Happy, laughing older man under studio lights in central Illinois.
Summer Family Photoshoot in the Park
Three kids play in the butterfly garden of Washington Park in Springfield, IL.
Coca-Cola Editorial Fashion Portrait
Blonde model drinking from classic glass Coke bottle at Route 66 gas station.
Outdoor Nature Senior Portrait
Brunette senior girl in portrait session at Washington Park in Springfield, IL.
Springfield Illinois Senior Portrait Photographer
Male senior photo wearing flannel shirt in central IL park.
Baby Boy Portrait in Yellow Studio
Studio portrait of baby boy Jameson with mom and dad in Springfield, IL.
Editorial Model in St. Louis Museum
Style model in STL at Contemporary Art Museum photoshoot.
Chicago IL Senior Portrait
Male high school senior wearing Ralph Lauren Polo shirt in nature photo.
Model in Black & White Portrait
Editorial fashion photo of local model jeans and t-shirt next to vintage sign.
Beautiful Grandmother in Home Portrait
Older woman sitting for photo with her pressed flowers at her table in Springfield, Illinois.
Vintage Clothes Editorial Portrait
Photo of style model wearing vintage clothing on editorial photoshoot set.